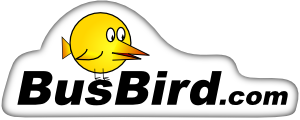 Frequently Asked Questions
and ones I made up.




Q: It doesn't seem to be working properly.
Please try the latest Firefox browser. I do my best to test with Internet Explorer, Playbook, Safari and mobile browsers as well.


Q: What am I seeing?
It's an animated map of the bus schedule with updates provided by users like you!
If you click on a bus you can see a line of varying colours - this will indicate a range where the bus should be based on the schedule and any updates users have reported.
If you click on "Catch!" it will show buses approaching the star, or if you haven't touched the map yet, your gps location.


Q: How can I report a bus location?
Just run Busbird on your phone when you are riding the bus. Instead of quitting Busbird just let it run in the background and it will report your bus position occasionally. It figures out which bus you are on!


Q: Do I need to register?
Q: Why should I register?
When you register you become a trusted user. At this time logging in with your registration will limit the reports shown on your map to trusted reports only.
In the future you will be able to choose which trust level you want to see and you can become a more trusted source to your fellow bus riders.


Q: How do I register?
Click on Prefs and look for the "Registration Form" button.
You will need to make up your own userid and enter an email address where your password will be sent.


Q: What about Bus GPS?
New buses have this built in. Old buses don't. Current tracking systems seem to be overly expensive to install and maintain so many cities aren't tracking their buses.
Busbird was designed to incorporate updates from multiple sources. It's an experiment.



Q: There's an App for that?
Sorry not yet. I hope to have one as well as a simple efficient Android/IOS/Playbook app ( no map.. straight to the point bus info ) sooner than later though.
Now on the Google Play store!
Apple's store sooner than later.


Got a question?
My email is JJ@busbird.com
Justin Jones

back to busbird.com